Historical
Erin Tennessee
---
In 1863, the town of ERIN was listed on a Middle Tennessee Civil War map. At that time, there were a few stores and an Irish railroad worker camp. The legend says "the hills and creeks reminded the Irish of their native Ireland and named their town Erin." The railroad was abandoned in the l980's and now, on the railroad bed, is a two-mile walking trail through Erin's historical district. While walking, you can see the Victorian homes and business buildings that are over 100 years old. There are also three large limekilns, 50 feet in height, that are of the same era. The railroad memorial pavilion has tables if you wish to get 'take-out from the restaurants and enjoy the outside. Also, there are benches along the walking trail. Houston County Library, downtown, has an extensive collection of microfilm of the area and many historical and genealogical publications. If you wish to ride the river ferry on the way home, there is one located at Danville, on the Tennessee River, and one at Cumberland City, on the Cumberland River. We welcome you to historic ERIN. And, on the 3rd Saturday in March, come back and visit for our annual Irish Celebration. "ERIN GO BRAGH"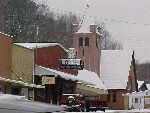 Historic
Erin Tennessee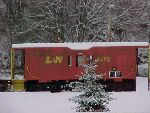 SEND A FREE GREETING CARD FROM RAILROAD PARK
---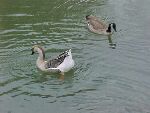 The Erin Geese
---
T op of the Morning Houston County

City of Erin has a web site. The web site is www.cityoferin.combe sure and give it a try.
---
News from The Hill
PRESS RELEASE FOR IMMEDIATE RELEASE April 18th,2000 CONTACT: Senator Rosalind Kurita Pamela George Office: (615) 741-2374*Home: (931) 358-2005 Press Release
AND
Representative Ridgeway NEWSWRAP WEEKLY April 7th 2000

This could be your article
we are always looking for writers . .
---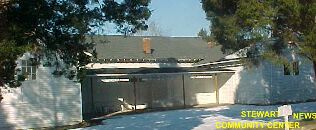 The pot-luck on January 21st. was truly a wonderful evening. Click here for more Stewart Community News
---
BSAFE NEWS FROM THE SAFEHOUSE UPDATED April 3rd
---
Isp news
MODEM GUIDE
Have One phone line this should help never miss a phone call CLICK HERE to see who's calling while you are online
FREE MONEY ON THE INTERNET TO HELP DEFRAY THE MONTHLY ISP COST. JUST CLICK ON The All ADVANTAGE BUTTON AND SIGN UP. THEY WILL SEND YOU AN EMAIL TELLING YOU YOUR VIEW BAR IS READY, DOWNLOAD IT, SET YOUR SCREEN TO 600X800 AND LOG ON THAT'S ALL THERE IS TO IT. I'VE BEEN USING IT AND GET A CHECK EACH MONTH CUTTING MY ISP COST IN HALF. hOW ABOUT YOU? Susan Lewis told me she got a check last week

Mlec.net is operational.HERE
.56 K INTERNET SERVICE
In the form of teleclipse.net, is available to all customers of Peoples Telephone Company.
Check your Internet usage here
---
---
NEW PAGE FEATURE....TV Guide geared to our local cable system. If you are interested in your city council meetings but are unable to attend, read the minutes here......on-line. If you know of any news that you would like to see headlined in this "On-Line" paper.......please email me at Davis@erintennessee.com.
.
World News Headlines
LIBRARY NEWS
By Cathy Smith
The library news will be a weekly item and you will be able to keep up with both past and present news. Read and enjoy.
Weekly Library News
WORDS OF INSPIRATIONFrom Bob & Frieda Liss... sometime funny, somtime sad, but alway thought provoking.UPDATED March12 cont.....

HOUSTON COUNTY TV GUIDE

Erin TN Planing Commision
And Zoning Board
UPDATED MARCH20thMEETING

Scanner News
... Easter weekend was steady but nothing major.Officer of the Month Contest
Sponsored This Month by Southern Aire
If they are your favorite Fireman, Police Officer, 911 personel, EMT, Sheriffs Dept. Officer or Game Warden
JUSTe-mail Davis@erintennessee.com
The winner gets a $15.00 gift certificate at southern Aire.IF THERE IS MORE THAN ONE WINNER WE HAVE A DRAWING
Tommy Parchman is the winner for the month of March.

About Us
Here...

Mr. Thoughtful "There are countless ways of attaining greatness, but any road to reaching one's maximum potential must be built on a bedrock of respect for the individual, a commitment to excellence, and a rejection of mediocrity." - Buck Rodgers
Other Thoughts of Mr. Thoughtful


Trivia for the week question
WIN $10.00 WORTH OF GAS AT kwik Stop . If you know what Nickojack was?
JUSTe-mail Davis@erintennessee.com
IF THERE IS MORE THAN ONE WINNER WE HAVE A DRAWING.
No winer this week Most question come from a series of books by Nina Finley on Houston County available at the library




Local Churches | TENNESSEE Democracy Net | national Repuplican Net | Masonic Links | HAM RADIO | Character Counts
Sexual Offender Registry | OUR DAILY BREAD | Children's News | Seniors Resources | TVA NEWS: | NTPIC

OTHER ITEMS OF
LOCAL INTEREST